Multiple-Office File Sync
Centralized File View Across All Offices
Morro Data Cache & Sync technology enables companies with two or more offices to share their files in real-time. No VPN or Sync software required. Morro CacheDrive makes sharing files between offices Quick, Easy, and Safe.
Bring the Cloud Closer with Morro Data Cloud NAS
Cloud Storage at Gigabit Speed
Watch our one-minute video on how Morro Data combines the local Gigabit performance of a NAS and what you love about cloud based storage into one amazing solution. 
Regular File Server Interface
Cloud Made Easy.
Love Share Drives? We Do Too.
Simply map a drive to any PC or Mac to enable users to drag-and-drop files to Morro Cloud storage. It's just like using a local drive.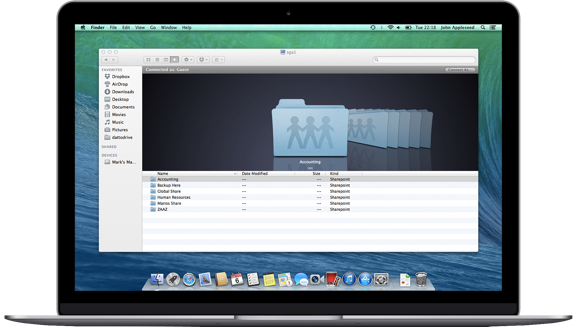 Cloud NAS
vs
Azure File Sync
Replace or supplement traditional on-premises file servers or NAS devices, with seamless Azure AD user management integration. Compared to Azure File Sync, Cloud NAS is:
           No need of a Windows File Server and its maintenance 
           Familiar and high performance network share interface 
          Support real-time file sync and file lock across multiple sites 
          Support Active Directory and Azure AD 
          Choice of cloud storage provider 
          Support Multicloud 
Cloud NAS vs. NAS
In order to protect your data, on-premises nas storage solutions require admins to purchase redundant hardware, new capacity, and backup solutions. With Morro Data, you get all the same reliability, accessibility, and scalability offered by cloud storage without compromising on performance. Pay for only what you need.
| | | |
| --- | --- | --- |
|   | MORRO CloudNAS | NAS |
| Hardware | Non-critical Appliance or VM | Critical Redundant Hardware |
| Storage | Pay Per Use | Over Provisioned Hard Drives |
| Off-site Backup | Cloud Backup and File Versioning Integrated | Cloud Storage and Backup Management Required |
| Multi-Site Replication | Add CacheDrives | Expensive and Slow Replication Software |
| Disaster Recovery | Replace CacheDrive (No Critical Hardware) | Unreliable Backup Recovery |
| Management | Simple IT | Capacity Upgrade and Hard Drive Maintenance |
Schedule a

FREE


Online Demo Today.
---
Request a live demo and one of our specialists will get in touch.